iA American Insights
Get the latest news, views, videos, and helpful tips and information from your friends and partners at iA American!
Back to all Insights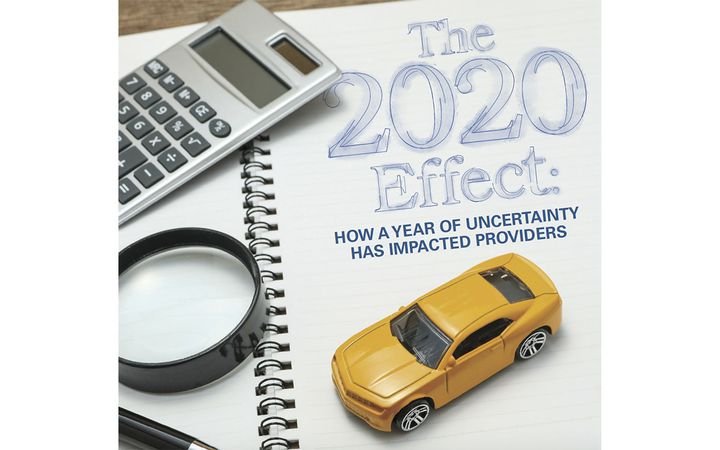 The 2020 Effect: How a Year of Uncertainty Has Impacted Providers
Oct 17, 2020
Dealers, F&I, Product Providers
Leading F&I providers share their thoughts and advice on handling the repercussions of the pandemic, plans to move forward, and how the 2020 election may prolong this year of uncertainty.
by Kate Spatafora
Associate publisher for MG Business Media
2020 has had a profound impact on businesses across the globe. While many industries are publically highlighted in news headlines, P&A dove deeper into the arena of F&I product providers. Executives from F&I companies that excel in the areas of reinsurance and vehicle service contracts (VSCs) shared their thoughts and advice on handling the repercussions of the pandemic, plans to move forward, and how the 2020 election may prolong this year of uncertainty. AUL's president and CEO, Jimmy Atkinson; Lori Hallissey, COO of Portfolio; CNA National's chief revenue officer, Jeff Weston; and the IAS and SouthwestRe team, made up of Kirk Borchardt, chief legal counsel, Rob Humble, chief revenue officer, Ryan Smith, senior vice president of marketing, and Carmen Torres, vice president of sales & marketing; all assist us in examining "The 2020 Effect" and the impact it's had on F&I, specifically on reinsurance and VSCs.
The Impact on Reinsurance and VSCs
With dealerships closing their doors and moving to online sales platforms, the products and programs that accompany these purchases have also transitioned to accommodate new buyer behaviors.
Overall, AUL Corp. has seen tremendous year-over-year growth in their VSC business.
"With so much uncertainty, car buyers want the peace of mind that a VSC or other ancillary protection product gives," said Atkinson.
As they have seen dealer revenue — both immediate and long term — taking center stage in 2020, the company believes dealer participation programs, including reinsurance, retros, DOWC, and other structures, are even more important.
"The ability to take a consultative approach and find the best program for the dealer's needs is paramount," he added. "We have dedicated our efforts to train and support our agents and dealers."
The IAS and SouthwestRe team does not expect any impact on reinsurance accounts to be long-term or significant.
"Underwriting performance in reinsurance portfolios has been better than forecasted due to people staying at home, with most of the improvement being observed in the GAP segment." the companies said. "Fueling that improvement is the reduction in losses as a result of fewer drivers being on the road, and the recent upward trend in used car values."
The team believes that although overall product sales fell through the critical COVID-19 shutdown period, they have begun to rebound as pent-up demand drives customers back to showrooms and to take advantage of online sales.
Still, they said, "dealers face some challenges right now, including low inventory levels due to manufacturer closures and fewer trades rolling through the market. The good news is, dealerships tend to adapt quickly to pretty much anything that gets thrown at them, and we in-turn adapt and advance digital solutions while maintaining or increasing F&I profitability."
"One of the many benefits of owning a reinsurance company is the ability to take loans, and many of our dealers in areas hit hardest by the pandemic were able to take advantage of that," said Portfolio's Hallissey. Noting that some were even temporarily closing their stores but still paying their employees.
"We are fortunate to work with resilient and financially savvy dealers who really believe in reinsurance," she added.
CNA National's philosophy with respect to reinsurance has always been to guide dealers to the program that is right for them, not what might be best for them as the administrator. That position hasn't changed on their part and never will, according to the company, regardless of the circumstances.
"We will continue to focus on helping our dealers generate income without sacrificing customer satisfaction," said Weston.
Moving Forward
In regard to how these providers see the industry moving forward in the fourth quarter and eventually into 2021, they are hopeful that the positive trends that emerged throughout the course of this year, such as advancements in technology, will continue to gain momentum.
Portfolio is watching two trends that emerged in the spring and summer, and the company expects them to continue in Q4 and into 2021. The first being penetrations, which were up overall, meaning finance sold more products per deal to fewer customers. And second, the dramatic increase of second-chance service contracts sold on dealers' behalf from call centers or by dealership personnel in the service lanes or by phone.
"Those positive developments were encouraging in a time when so many people have lost their jobs, their homes, and their ability to pay rent," said Griggs, adding that times of crisis prove the value of their products.
The company wants to protect as many people as possible, and now that dealers have seen higher products per unit retailed and the potential of the after-sale market, they can't imagine those same dealers would simply forget a few months from now, nor that their agents would let them.
"We see the ability to bring innovative solutions that increase dealer revenue as a cornerstone to success," said Atkinson.
AUL recently launched programs with a focus on technology to support the sales of VSCs in areas where dealers may have missed sales in the past.
"We also believe that a creative approach to terms and mileage can offer consumers broader choices that will deliver higher penetration rates for VSC products," he added.
The IAS and SouthwestRe team predicts the no-contact interaction between dealerships and consumers will continue through Q4 and well into 2021.
"We see continued movement toward digital retailing, as dealerships ramp up their e-commerce platforms at faster rates than we've seen in the past," the team said, adding that if dealerships face long-lasting effects from the current economic downturn, the focus on digital F&I sales will increase dramatically.
"Financially stronger dealer groups will take advantage of the current climate and actively seek out acquisition opportunities. As in 2008-2009, dealers will look to their reinsurance portfolios to access funds to bridge their financial needs. Dealer advances, which dominated new business acquisitions over the past few years, will begin to dry out until the economy stabilizes," the companies added, noting this is not likely to occur until a proven vaccine is widely available.
The New Normal
We've all heard about the "new normal," and for most of us, it affects our lives daily. We asked the companies how they have altered their business operations to keep up with the changing times.
CNA National, for example, is concentrating their efforts on helping dealers in a few key areas. With remote sales increasing, the company has put more emphasis behind projects to deliver product microsites and digital sales tools.
"We also developed virtual training programs for compliance education and a series of live, online classes that specifically address selling F&I products in a socially distanced environment," said CNA's Weston. The company is also hosting refresher courses for their agents on best practices regarding products and services.
AUL Corp. went almost fully remote when the shelter in place order began in California, and the company is thankful that its business continuity plans were effective and made a quick transition possible.
"While we certainly miss the in-person spontaneity and creative discussions of being in the same room, we have found we can be productive and effective in a remote environment," said Atkinson. "Regarding the economy, until we have a vaccine or more permanent COVID 19 solution, the undercurrent of unemployment and how much the government can support stimulus make longer-term predictions difficult."
AUL's Atkinson predicts many state and local governments will have huge budget shortfalls in 2021 adding to the uncertainty, but that "automobile dealers are some of the most resilient entrepreneurs in our country, so I am cautiously optimistic that our industry will continue to thrive."
"The biggest change would be transitioning most of our employees to working from home, and we were able to do that with little to no impact on our clients," said Hallissey.
She added that Portfolio's agents have done a phenomenal job keeping close contact with dealers, understanding the needs unique to their markets and locations, and providing feedback to us so we could react quickly and make changes to our processes to accommodate them.
"If there was any doubt as to the wisdom of partnering with independent agents, I hope the coronavirus set those doubts aside," she said. "They continued to run their businesses while we ran ours."
Portfolio commends their agents on doing a phenomenal job that never made them even consider losing any part of their sales force.
In the midst of all this, Portfolio completed the acquisition of National Automotive Experts and NWAN. Its Zoom meetings now include people from its original offices in California and Texas and NAE/NWAN's offices in Ohio.
"Dealing with three different sets of stay-at-home and work environment restrictions gave us a broader perspective and made us smarter, more in touch, and more accessible," said Hallissey, adding that consolidation has been a major point of discussion in the industry these past few years, and geographic diversity is one benefit that quickly became apparent as the two companies faced these challenges together.
For the IAS and SouthwestRe team, although some business operations still require certain employees to be physically in the office, the majority of their employees have successfully transitioned to a remote workforce. They have adapted very well to a teleworking and virtual service-and-support environment, and have experienced no significant degradation in service levels.
"New installs have gone well, including those performed virtually," the companies said, "and in-person presentations and service calls have been replaced with Zoom meetings, and even remote training is now being offered to our clients."
Prior to the pandemic, the companies were a very paper-driven organization, but to better adapt to today's realities, they have established initiatives to become completely "paper-free" in the near future, introducing efficiencies in that regard to their dealers and agent-partners.
"At the onset of the pandemic, when showrooms closed and sales slowed to a trickle, we moved to assist dealers who had active loans with us by waiving payments and interest for a set period of time to help them get through one of the roughest business environments we have seen in our lifetimes," IAS and SouthwestRe added.
Political Reset
Every four years the industry holds its breath waiting to see what impact a new president will have on business and regulatory affairs, especially those closest to dealers.
"Pre-COVID, the economy and auto industry were performing extremely well, and the automotive industry in particular has persevered through the pandemic," said AUL's Atkinson. "Certainly, any presidential election has an impact and this one will be no different."
He necessitates stability in lending assistance, as the large number of people now unemployed transition back to work and continued reduction in regulation that slows growth. Adding that, "the makeup of the House and Senate will also be major factors in how we grow our business and the overall economy in 2021 and beyond."
The IAS and SouthwestRe team points out that the industry typically sees a dip in car sales a couple of months leading up to an election, and a change in administration could mean the implementation of new tax laws that potentially impact the reinsurance market. This year, however, they believe the greater impact on our industry this year will be from the downturn in the economy and the increase in unemployment due by the pandemic.
"We have already experienced a significant dip in car sales in 2020, so there could very well be a higher than normal demand prior to the upcoming election, said IAS and SouthwestRe. "On the flip side, we are currently experiencing very high unemployment rates as a result of the pandemic and those appear to be correcting back to the mean, but it is certain we will not get the economy and employment levels back to where they need to be until we have an effective vaccine against the coronavirus."
*This article originally appeared in Providers & Administrators on October 15, 2020.
*Image: YATTAA via GettyImages.com